Career: Executive Director, Research Department,
China International Capital Corporation Limited (CICC)
Interests: Reading, Travel, Cooking, Interior Decoration, Hiking
Background: born & raised in Shanghai, China; studied in China (mathematics) and USA (economics); worked 14 ys in Washington D.C.; since 2009 in Hongkong
Olin Liu heads the macroeconomic research at China International Capital Corporation Limited (CICC). Prior to this position, she served as Deputy Division Chief, Asia and Pacific Department/ Mission Chief/ Senior Economist/ Economist at the International Monetary Fund from 1994 to 2008. Her past experience also includes Lecturer and Teaching Assistant at Boston College and in offshore oil services as Chief Accountant at Schlumberger.
The latest market revolutions expose the competitive weaknesses of Europe and US through their fiscal and debt issues and also demonstrates to newcomers like China that the fast pace of globalization could give rise to unintended consequences.
In order to solve the debt crisis, she suggests Europe to go three steps: The ECB and the EFSF need to take on some of the European debts, the creditors have to make sacrifices and Europe needs to create a fiscal union. If each European nation-state regulates itself independently, there will be an imbalance in a long term. A change would also create the prospect that China is involved in resolving the debt crisis.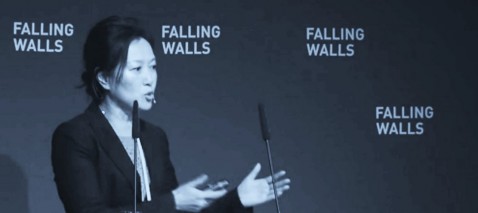 The China International Capital Corporation Limited (CICC) is China's first joint venture investment bank and provides both institutional and private investors a guide in turbulent markets with an international perspective. It is the first and still the largest investment bank in the country. The company was founded in 1995 and a year later, it went to the Shanghai Stock Exchange.
Falling Wall Conference, where this interview was taken, is an annual global gathering of forward thinking individuals from 75 countries. Each year, 20 of the world's leading scientists are invited to Berlin to present their current breakthrough research. The aim of the conference is to connect science with industry, politics, media and culture, identify trends, opportunities and solutions for global challenges, make research understandable to a broad audience, inspire people to break down the walls that we face today.
More:
Liu on
Falling Walls
http://falling-walls.com/lectures/liu-olin/
http://www.cicc.com.cn
Falling Walls on Twitte: @Falling_Wallsr
Other articles/links/videos:
Company overview on Bloomber.com: China International Capital Corporation Limited
"Falling Walls"-Konferenz in Berlin on ARD.de
Falling Walls Conference 2011 on BMBF.de
Article: Die Zeit "Schaffen Sie eine Fiskalunion!" (2011/11)
Article: Sex, Daten und das Universum on Der Tagesspiegel (2011/11)

Video: Livestream Falling Walls Conference
Publications by Liu Olin on Worldcat
Falling Walls Documentation (ed. Nathalie Martin-Hübner, Sebastian Turner)
Liu Olin – Breaking the Wall of Global Debt @Falling Walls 2011 from Falling Walls on Vimeo.
Tweet